Also purchase from these popular online stores!
A Bright idea from OSI
Meet the The OSI Smart Wi-Fi Floodlight!The and 1080P HD Security Camera gives you peace of mind, anywhere, anytime for use standalone or expansion of your existing home security system. With a built-in floodlight that can be motion-triggered or set on a timer, you can light up an area of your home, turn on the built in siren and stop intruders in their tracks, all while recording and storing footage on the included 32GB SD Card or sign up for the optional cloud storage (low annual fee) for extra security!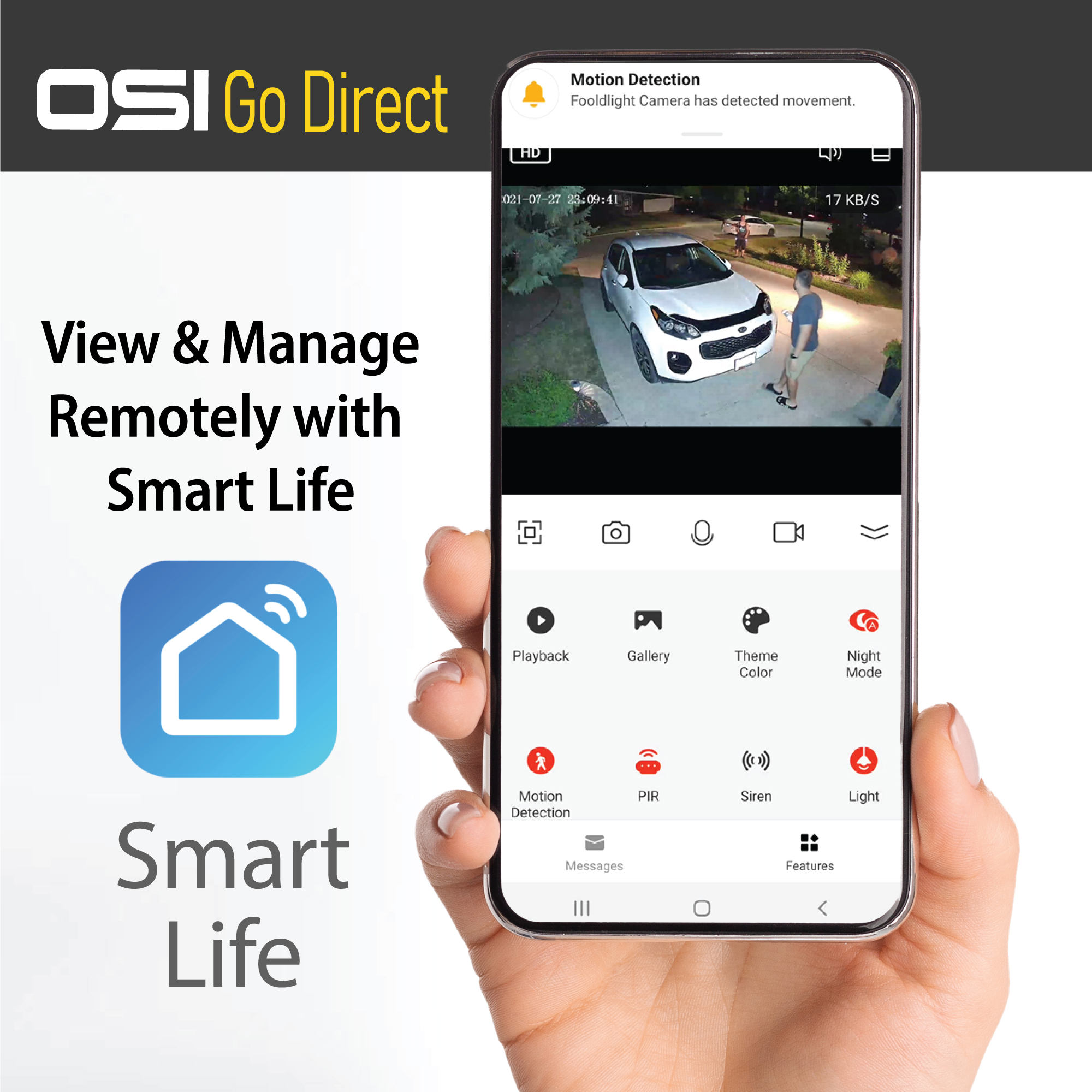 View and Manage Remotely
View your live footage, review your recordings and manage your OSI Smart Floodlight Camera settings by downloading the Smart Life app from Google Play or the App Store. Never worry about being away from your property again as you will be able to maintain visual and audio contact using the app. Enjoy your new window into your home or business anytime, anywhere.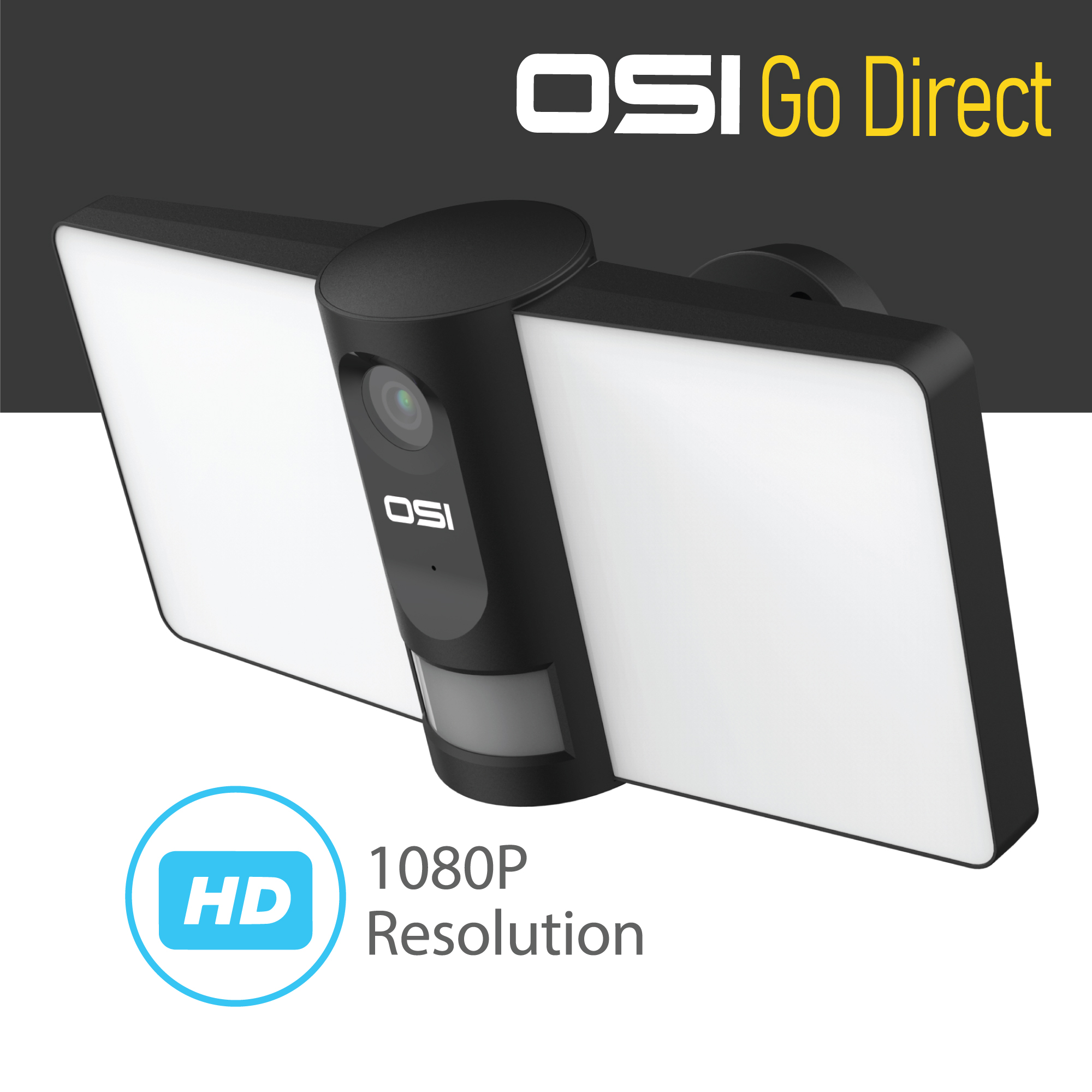 View All the Details, Day and Night
The camera boasts stunning HD 1080P resolution that will allow you to see all the fine details in your field of view. Additionally, you can depend on the camera at night with its exceptional IR night vision. See up to 32ft in the dark to view your residence at all times.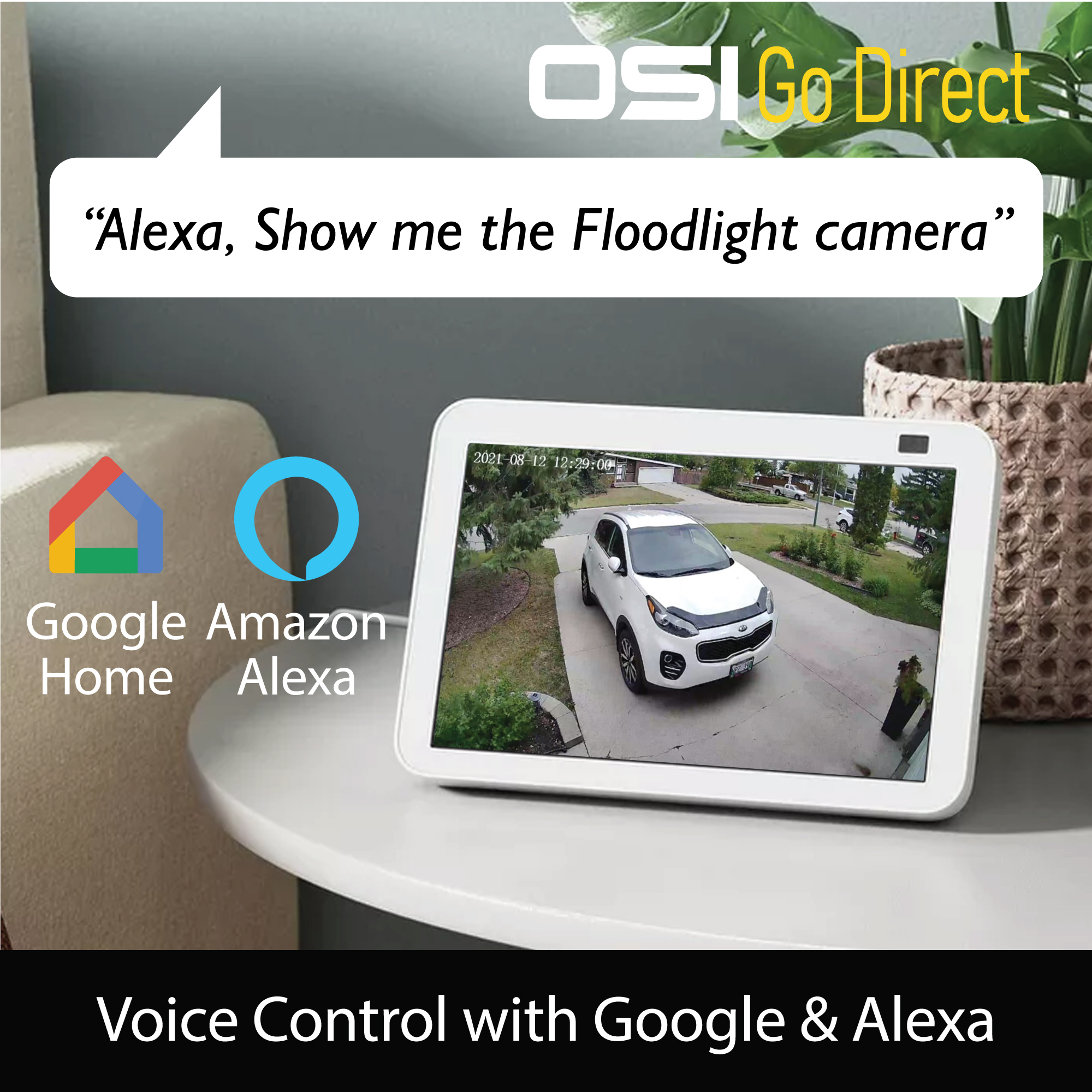 Works with "Hey Google" & "Alexa"
Easily use voice command to show live video footage from your floodlight camera on Google Hub or Amazon Echo Show.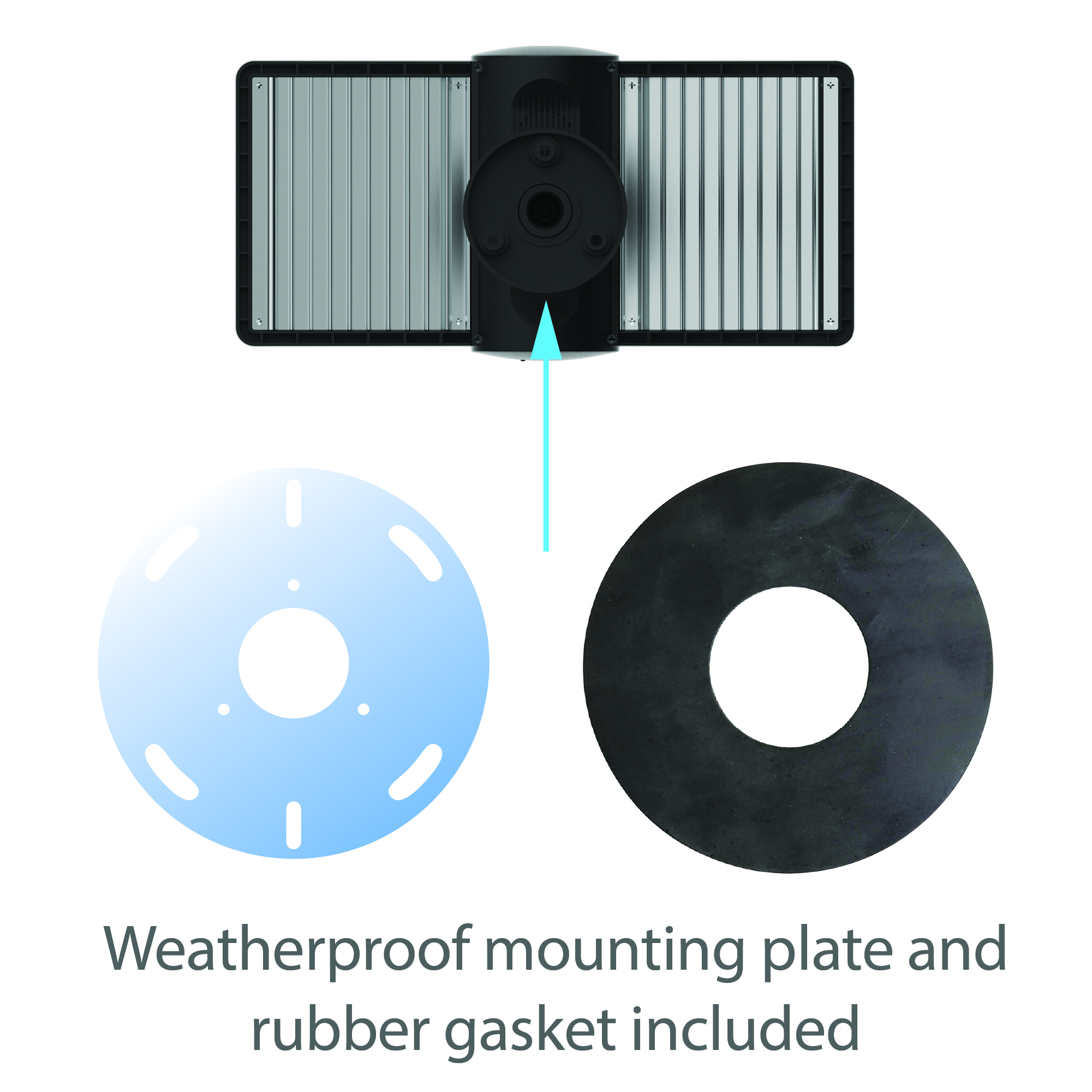 Easy Installation
We've designed the OSI Smart Camera Floodlight to replace your existing light fixture in a few easy steps. Just take down your old fixture and connect the Camera Floodlight to your existing power wires, then mount the light to your junction box. We've included waterproof mounting plate and rubber gasket to help prevent water from entering into a wall.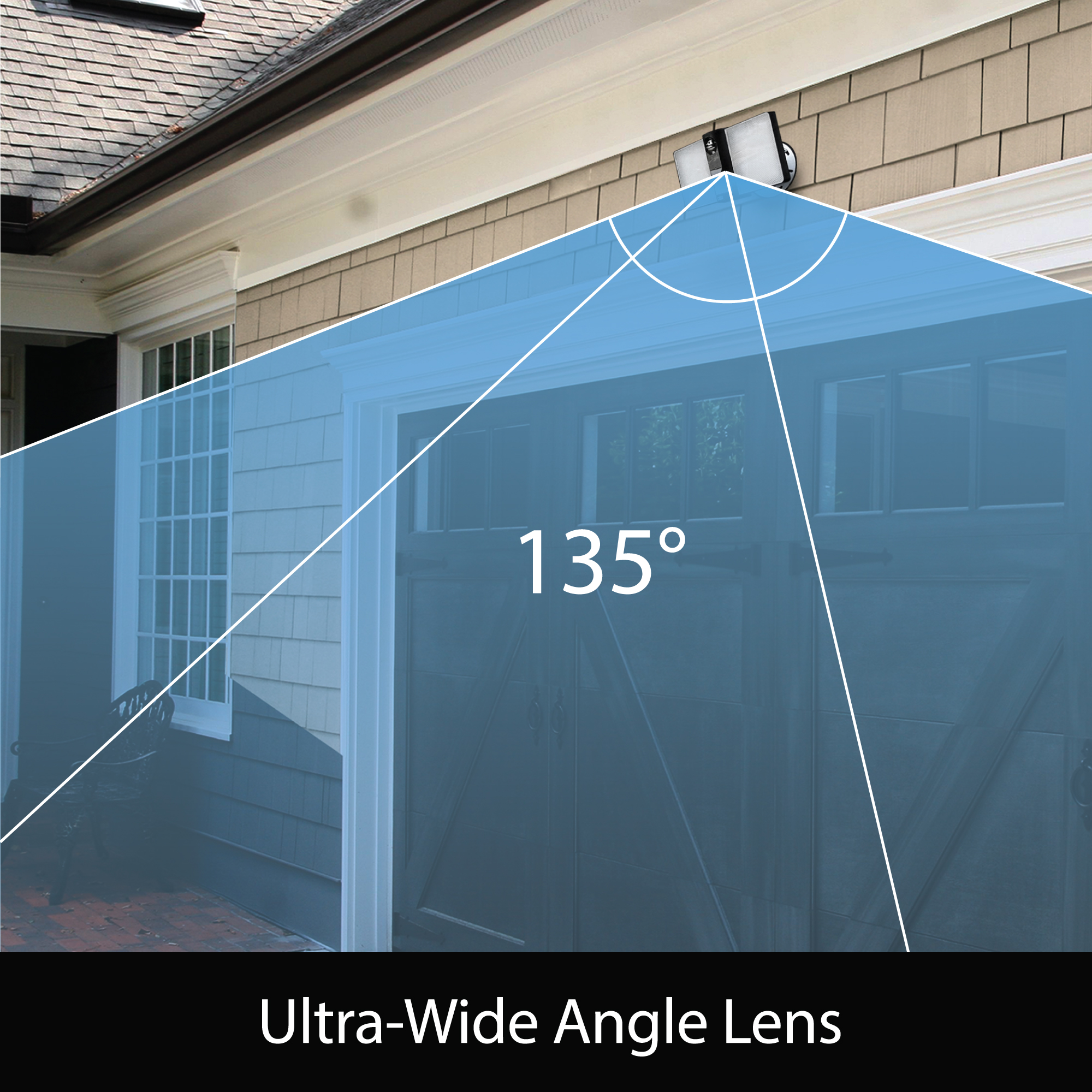 Wide Angle Lens for awesome coverage!
The expanded camera lens lets you monitor a range of 135 degrees eliminating blind spots and weak points.
---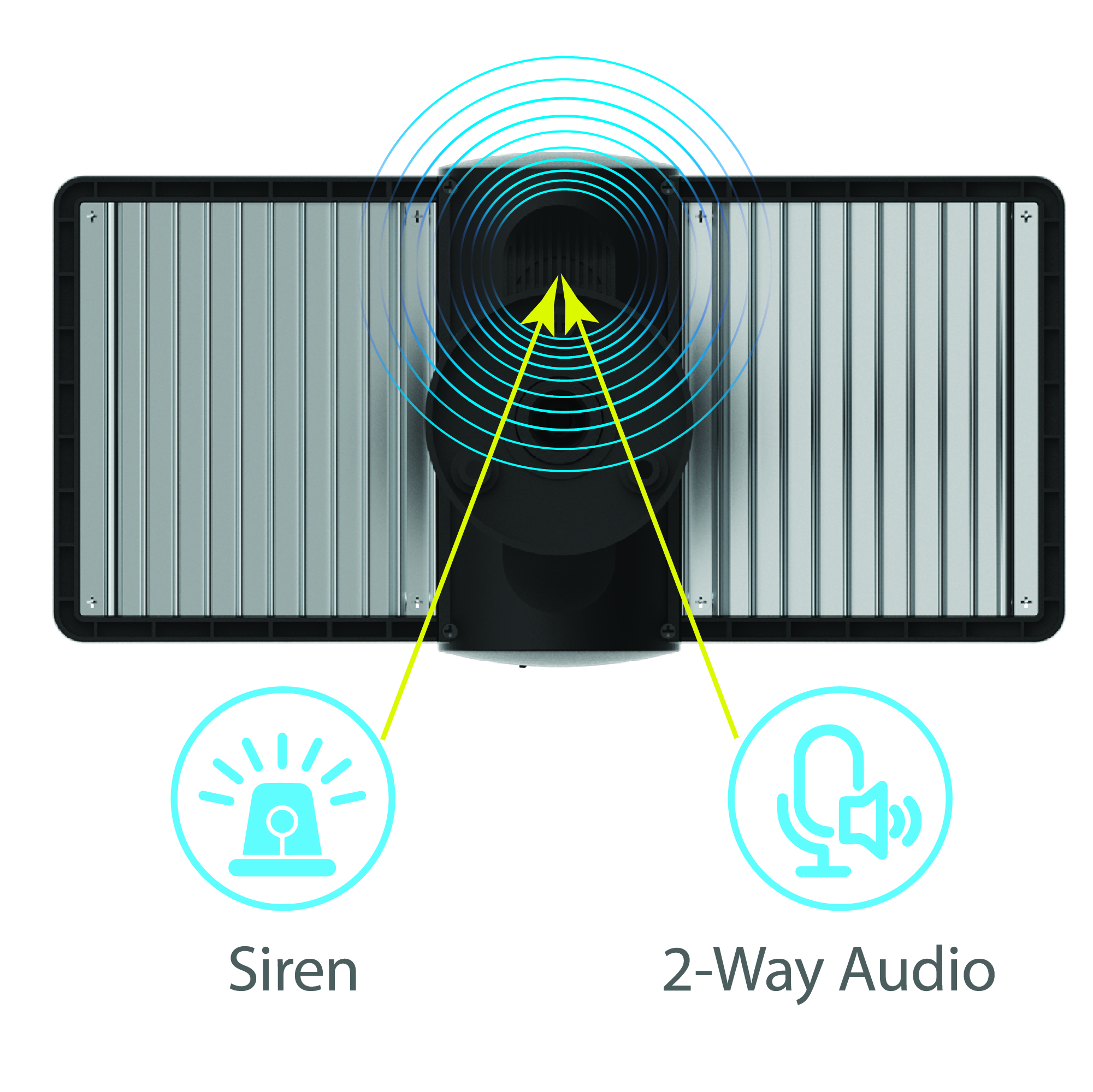 Security Siren
Not only does the OSI Smart Floodlight sense motion and automatically triggers the light but it also features a manual siren which you can turn on from a click of a button to frighten away unwanted visitors who may be scoping your home for a possible break-in or theft from your property.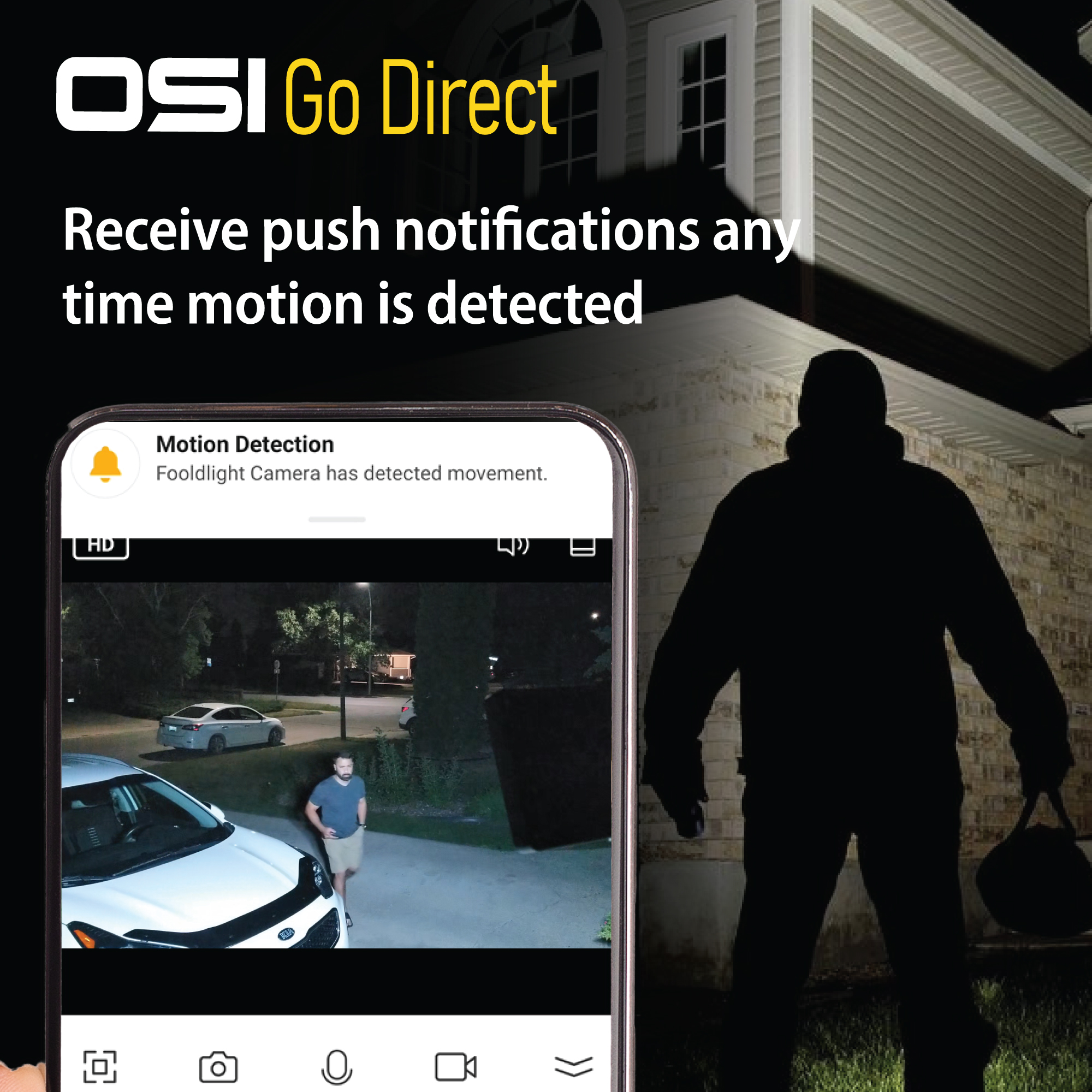 Gain Complete Awareness to Your Camera's Surroundings
Receive push notifications to your mobile device any time motion is detected in your camera's field of view. When you are notified to movement on your camera, you will be able to view your live footage and review the event that triggered the camera's motion detection directly from the Smart Life app!.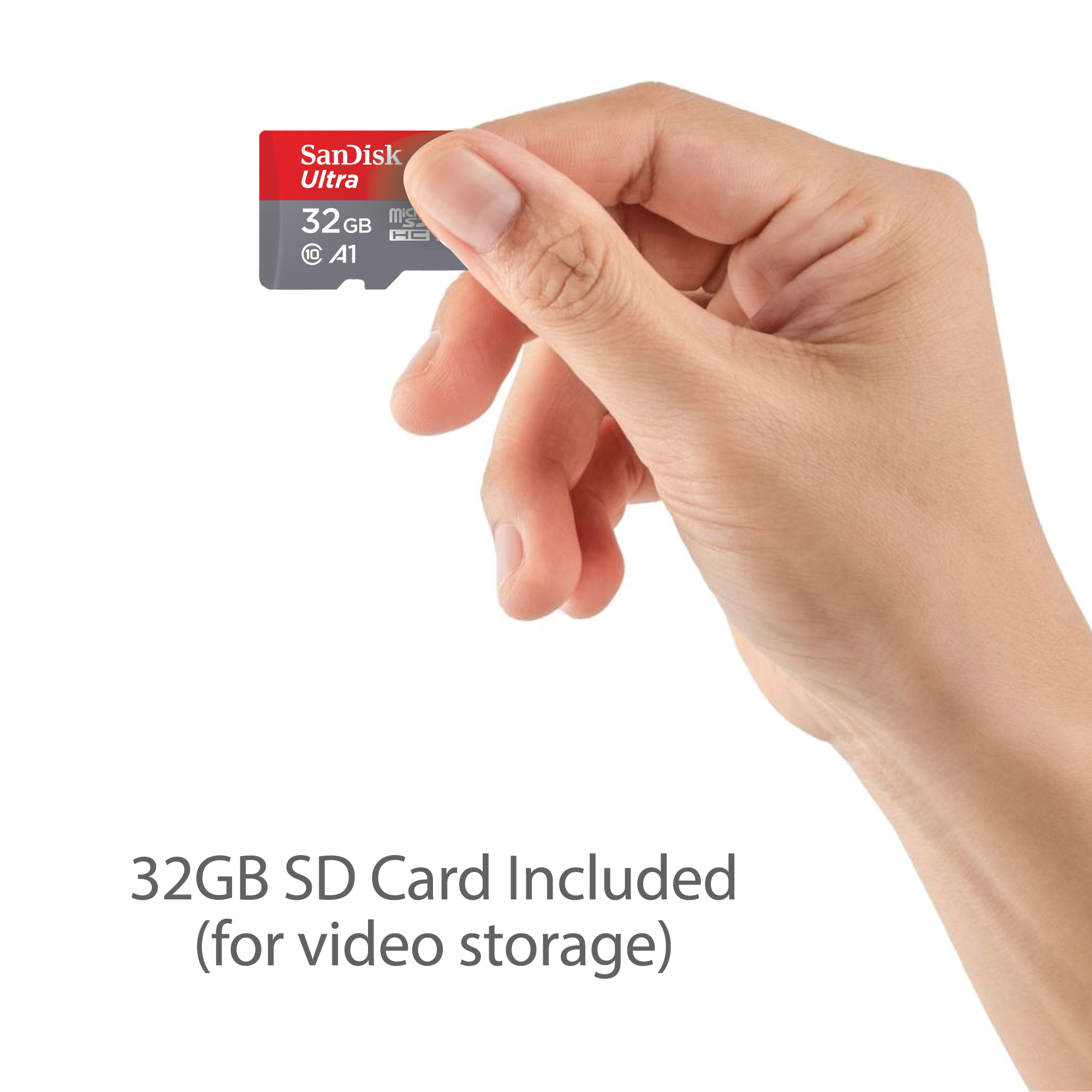 Storage for your video
Store motion-activated recordings right to the included SD Card! Access video from the Smart Life app from anywhere conveniently from your phone. This gives you the option for a cost-effective alternative to the subscription-based cloud storage which we also offer
Easy 15 to 30 Minute Install
Perfect for front door, back door, garage, exterior, patio, or porch. This security cam requires hard wiring, and is NOT battery powered, so you won't have to worry about charging. Just turn off the power from fuse box, remove old wired light, attach the OSI floodlight camera to existing wires, then screw in the floodlight base with the included rubber gasket seal and you are done!
---
Communicate from Anywhere
The OSI Smart Floodlight Camera features built-in 2-way audio that allows you to communicate with anyone near the camera via our mobile app. Frighten way unwanted visitors or communicate with loved ones while you are away or calm your pets from a distance by speaking through the camera. Keep vocal contact with anyone at your property regardless of where you are.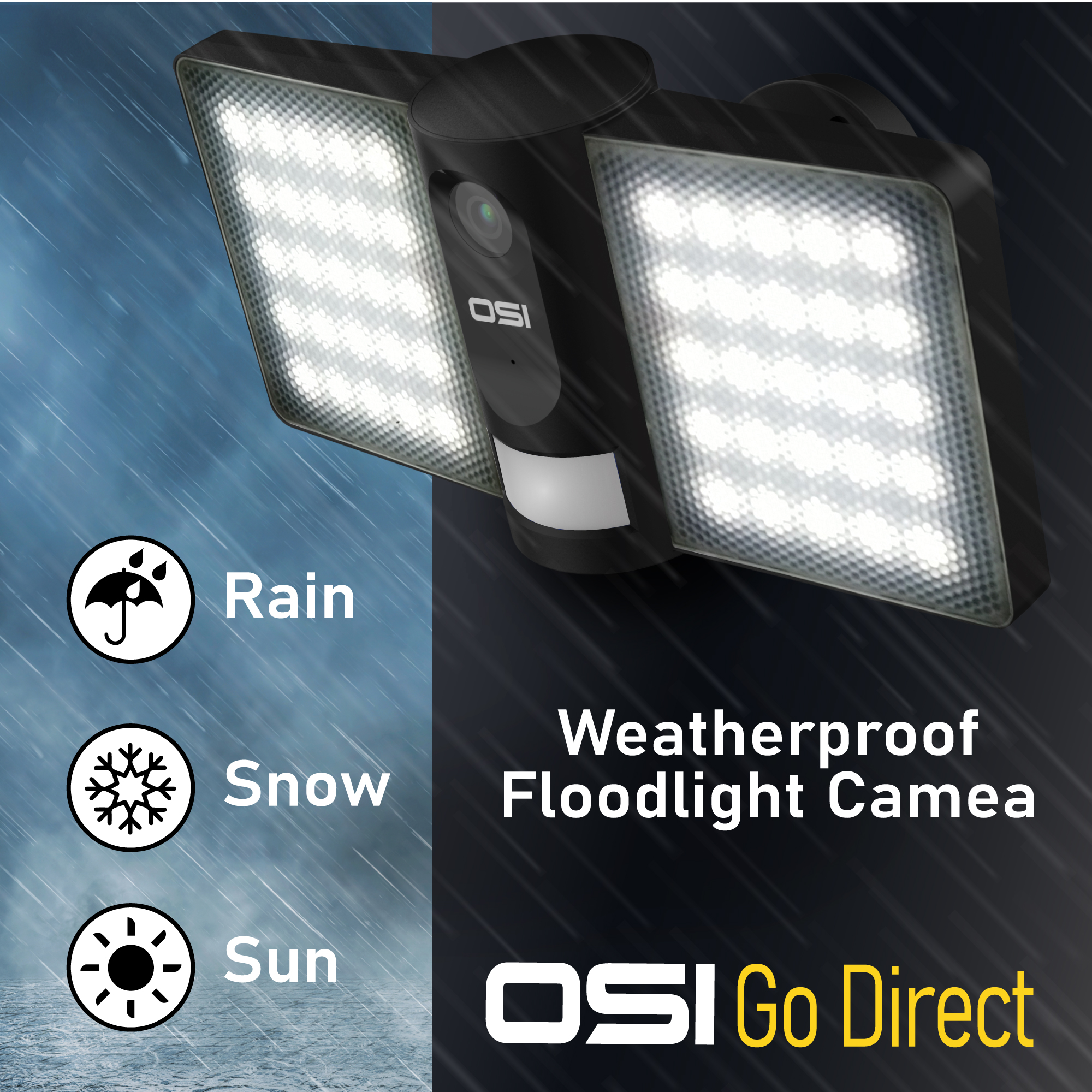 Weatherproof
The IP65 rating means total protection through any climate. 24/7 home monitoring rain, snow or shine.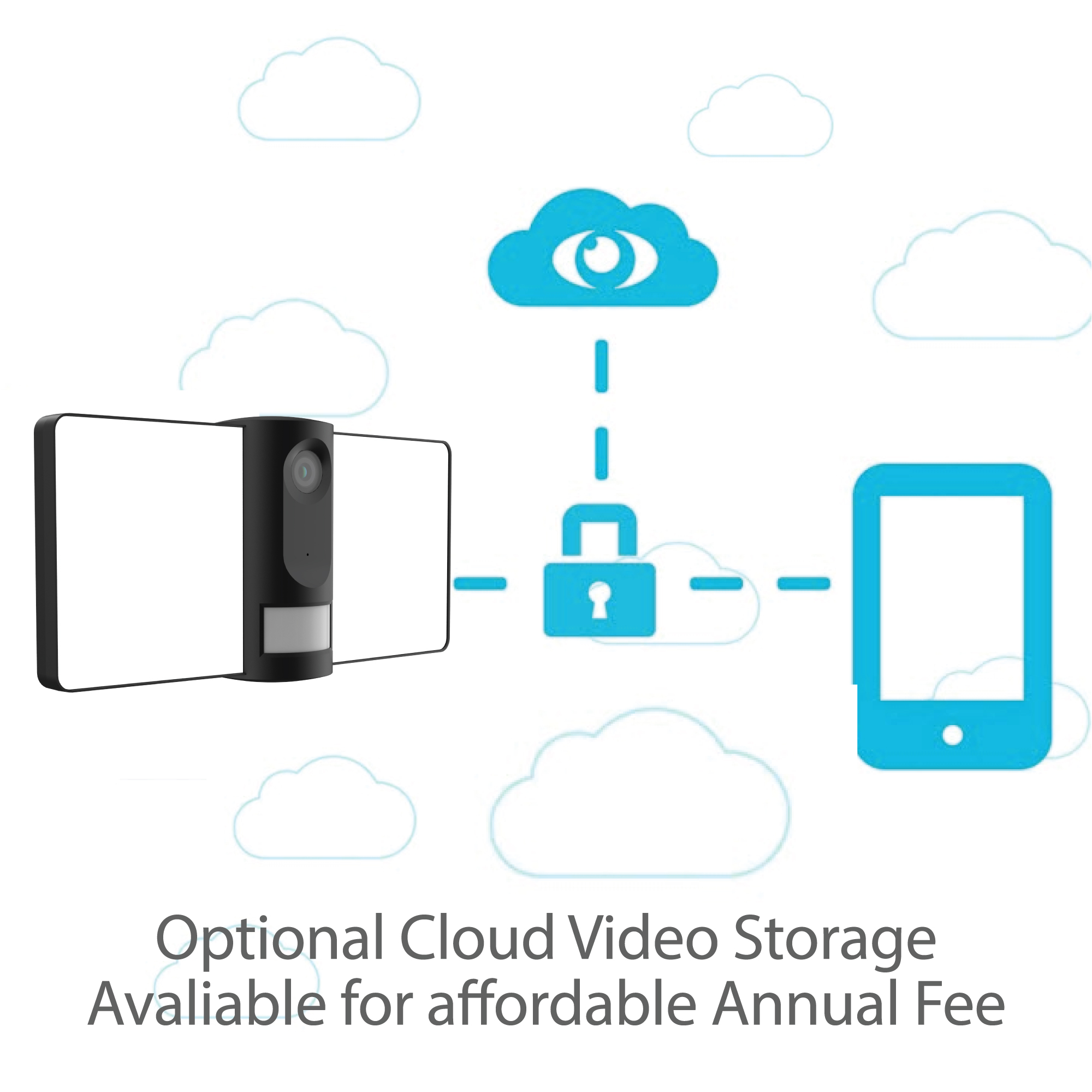 Stay Secure with Cloud Storage
Although we include a FREE 32GB SD Card for video storage you can also have a choice to use secure cloud-based storage options (yearly fee). The cloud service is 100% secure with advanced encryption and user credential requirements to ensure your safety and privacy.
---
Full HD 1080P
Full HD 1080P (1920 x 1080) 2.1-megapixel resolution brings you a clear view of your property at all times.
---
Adjustable Light Brightness
Use a slider within the app to adjust brightness levels to suit your needs!
Two-Way Audio Speaker and Microphone
The OSI Smart Floodlight Camera allows you to communicate through your security floodlight with its integrated two-way speaker. Alert intruders, communicate with delivery people, and greet your guests without ever opening your door!
Smart Motion Detection
Smart customizable motion detection keeps you alert to the movements and people that matter in your camera's field of view.
No Hub Required
This wireless smart security system device works with your home internet connection. Simply download the Smart Life app, mount your wifi surveillance camera, and connect. Receive motion detection alerts and instantly view up to 9 camera feeds at the same time directly from your smartphone, desktop, or tablet.
Night Vision
Wide angle lenses and bright flood light to safeguard your home, IR night vision for extreme low light coverage, ensuring your high-quality view of your home even in the dark.
32GB SD Card Included
Built-in microSD slot with included 32GB SD Card (Max up to 128GB SD Card can be used) for easy local storage to guarantee you keep all your important footage.
Live Stream from Anywhere with Smart Life App
View and manage your footage remotely with the free Smart Life mobile app and stay alert to any significant event on your property with motion detection push notifications.
IP65 Weatherproof Technology
This OSI Smart Floodlight outdoor surveillance camera is strong enough to withstand rough weather conditions. Perfect for front door, back door, garage, exterior, patio, or porch. This security cam requires hard wiring, and is NOT battery powered, so you won't have to worry about charging!
Works with Alexa and Google Home
Use "Alexa" or "Google" voice commands with this camera.
Cloud Storage Available
If you rather have your video storage kept in a safe place, you can sign up for a low yearly cloud service. The cloud service is 100% secure with advanced encryption and user credential requirements to ensure your safety and privacy.
What's Included?
The OSI Smart Floodlight Camera comes with everything you need to get you and your belongings protected. Buy more cameras or add other OSI Security products such as the OSI Alarm System and monitor all from one app. Our DIY systems are easy to install and do not require professional installation. If you run into any problems just check out our how to videos in the download section of this page, call, email or use our chat to contact our customer support line!
1x OSI-CAM-FL1 - OSI Smart FloodlightCamera
1x 32GB SD Card
1x Mounting Bracket
1x Installation Screws
1x Rubber Gasket
2x PIN (For resetting camera)
2x Adhesive (for wall mount)
1x Manual
(2 reviews)
Write a Review
I bought this security system to protect my small business. System is well built. Touchscreen works well and is nice and bright. Full of features and customizable settings. Everything was super easy to setup and understand. The siren is loud. And it comes with two sirens, so I can keep one out front on the sales floor and one in back where my workshop is. The app is easy to understand. But I had one major problem during set up. Push notifications did not work with my Goggle Pixel 6 (This turned out to be a problem on my phone, not with the security system). Without notifications, the entire system was useless to me. I need my phone to alert me when the siren is triggered and I am not on site. That is the whole point. After two frustrating days of trying to solve this on my own, I contacted customer service. They went above and beyond in helping me track down a problem that ultimately had nothing to do with their product, and everything to do with a developer error on my google pixel 6. Most customer service reps just have a list of simple diagnostics (turn off do not disturb, reboot your phone, etc). But this person was out there researching my specific phone until we ultimately discovered the solution. A factory reset (which was annoying) but also fixed the push notifications, and not just for this app, but a few other apps that I didn't even realize were broken until they were fixed. Absolutely fantastic customer service. I will admit that on the second day of trying to solve this problem myself, I bought a ring security system that had it's own proprietary app, thinking that it would work better. But I liked the OSI system better. And after having had both units side by side, and after my experience with the OSI customer service team, I am sending the Ring Alarm system back and keeping this one. Thank you so much!

Very happy with this product

I purchased this camera because I had unwanted guest on my property, and needed to keep an eye on them while I wasn't around. The floodlight works great, and the camera quality is really good. The app is simple to use, and I get notifications when someone's on my property. There's 2-way audio and other nice features in the app as well.