No Contracts. No hardwiring. No hassle.
Our OSI Wifi Alarm System is a low commitment, easy to set up, and effective self-monitoring DIY system. Suits perfectly for home owners, small business owners, and is especailly favorite for renters of all types and those who need to move frequently for their job! Since hard wired installation are not allowed in rental units, this is an affordable solution to get you protected where ever you go. The alarm display is powered by plugging it into any electrical outlet and wirelessly connects to all the sensors. Set up within minutes but feel protected 24/7!
Remotely arm and disarm your system and get notifications monitor them from one simple dashboard on your smart phone using the Smart Life App! Everything you need for a standard apartment/condo is in the box. Have more windows or doors you want to cover? No problem! You can purchase additional motion detectors and/or window/door contacts within minutes when YOU need them!! Never worry about service appointments, long-term contracts or hidden fees again and live your life feeling protected 24/7!
*Multi-language menu display including English, Simplified Chinese, Greek, Deutsch, Russian, Spanish, Italian, French, Polish, Portuguese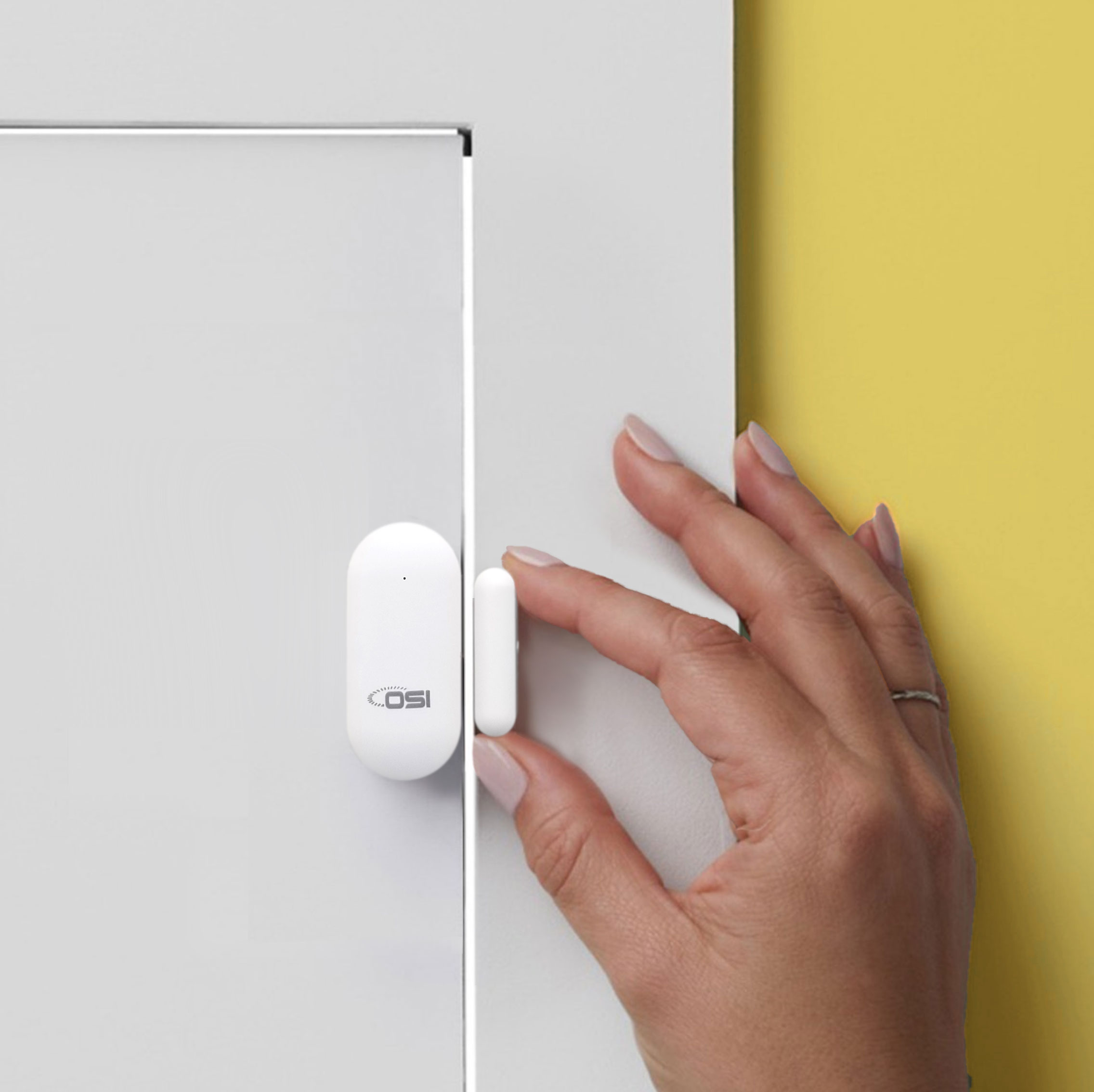 Do it all yourself.
Everything you need comes in a box and works in any small business, house, condo or rental apartment. If you want to avoid the tedious process of running cables on your property or due to tenant contract restrictions or want to avoid spending money on a professional installation, then this system is for you! Simply connect the horn in the display hub then plug the main display hub on a wall near an outlet! Mount your wireless window and door sensors with the provided 3M tape and then lastly download our free app and set your desired settings and you are ready for 24/7 protection!
Adding on is fast and easy!
As your needs grow over time so does the OSI Wifi Alarm System. If you decide to move into a larger home or office and need to expand your system with more door, window sensors or an additional horn, you can buy add-ons at your convenience and set up and minutes all at your own pace!
---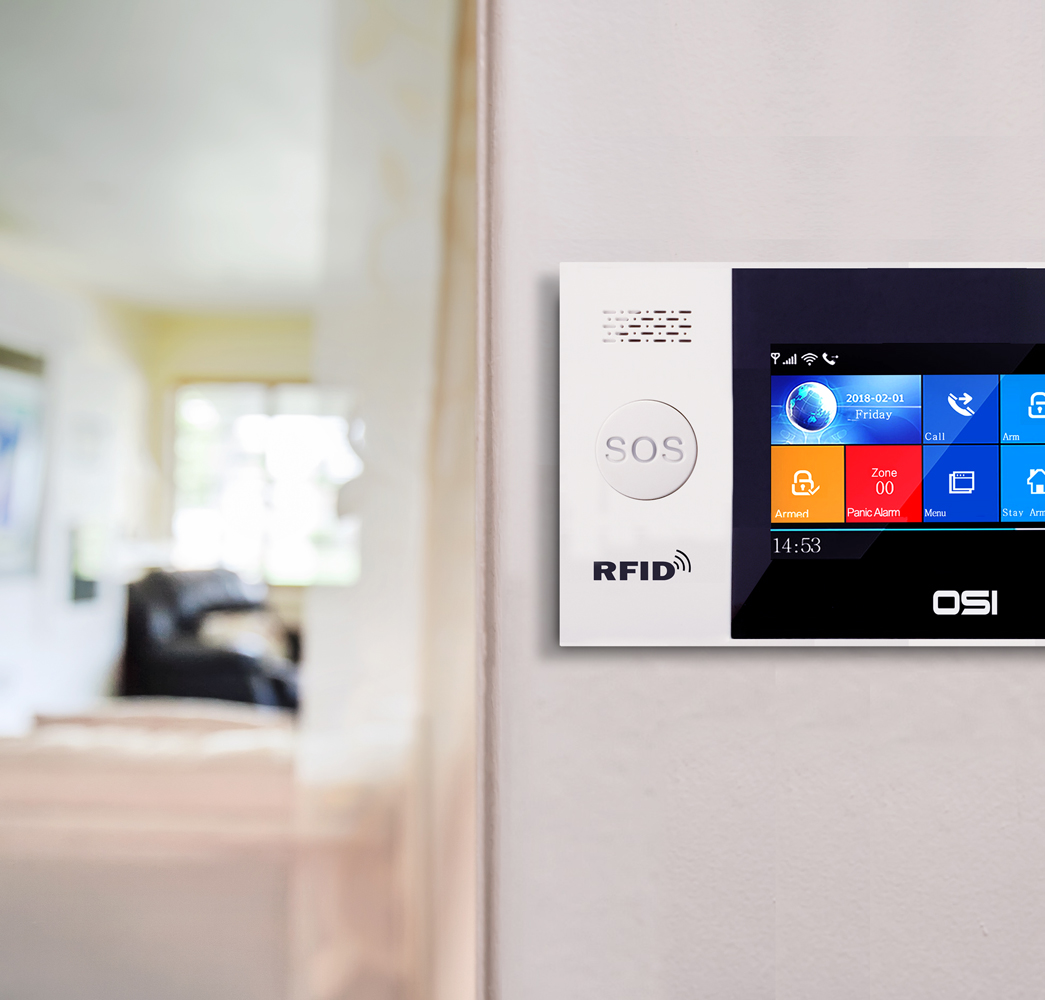 Protection for break-ins & Emergencies
Be the first to know when doors and windows open. Link all your OSI Wifi Alarm components and pair them to your mobile devices with the OSI Base Station. Get help as soon as you need it by placing the wireless display hub within reach to press the panic button (SOS) to quickly sound the siren.
Complete control from Smart Life App
The OSI Wifi Alarm System use Wi-Fi connections and remote control to give you the ability to arm, disarm, and monitor your system from wherever you are. ... For example, you can use Wifi from wherever you are – but Wifi isn't always available everywhere. In those cases, you will need to use your phone's data plan. Get notifications, set alarm modes, sync all your OSI Alarm devices to the app and monitor them from one simple dashboard!
#1 Choice for Apartments and Frequent Movers.
Whether you live in a studio apartment or a six-bedroom house, security systems help protect your property from intruders, package thieves, and your neighbor's 9-year-old kid who keeps ding-dong ditching your door. But if you live in an apartment, security systems can be tricky. Yeah, you want to arm your entryway, but most landlords would rather their tenants didn't drill holes in the wall or install complex security systems you have to take down later. Especially if you tend to move from one place to another fairly frequently (say, every two years or so).
That's why the OSI Wifi Alarm System is best overall for renters precisely because, it's simple, super affordable, it's easy to install, and it does its job. Take down and set up your system in less than 30 minutes. Spend less time dealing with unsightly wiring and more time actually getting work done!
---
No Monthly Fees
There is absolutely no monthly fees, installation costs, or contracts required. Buy your equipment upfront and self monitor
Remotely arm or disarm with our free app
This self-monitoring system allows you to arm and disarm the system remotely through the wifi control panel with our free app. You'll receive event notifications when a sensor is triggered giving you control over making the decision to contact the local authorities. you also have the option to record a 20 seconds alarm voice so that if an alarm occurs, the alarm host will dial the preset number and play the recorded voice
Easy and Quick Installation and Removal
This alarm systems connects through the Wi-Fi network which means there is no need for cumbersome wiring. This allows you to take down and set up within minutes allowing you to take the system when you decide to move!
Simply add Devices
Easily modify the OSI Wifi Alarm System as per your preferences and needs. You can add additional strob sirens, motion sensors (PIR), or door and window sensors to suit your requirements as you need them.
---
What's Included?
The OSI Wifi Alarm system comes with everything you need to get you and your belongings protected. This system grows with you - If you move into a larger home or office with more rooms, doors or and windows, you can purchase door and window sensors seperately at an additional cost. Our DIY systems are easy to install and do not require professional installation. If you run into any problems just check out our how to videos in the download section of this page, call, email or use our chat to contact our customer support line!
1x OSI-ALM-PNL-W - Wi-Fi Alarm panel with built-in 4.3-inch TFT large digital display screen
1x OSI-ALM-PIR-W - Wireless PIR motion detector
1x OSI-ALM-DWC-W - Wireless Door/Window sensors
2x Wireless remote controllers
2x RFID tags
1x OSI-ALM-SRN - Hard wired siren
1x Power Adaptor
(5 reviews)
Write a Review
Easy interface, convenient to use on your phone

Does the job. I get notifications when the system is armed or disarmed, so I know when someone from my family gets home. Also tested motion and door sensors and they trigger the system no problem.

I needed a simple solution for my garage out in the country, and this was exactly what I needed. It is simple to setup and I really like the app for receiving notifications and to arm/disarm the system from anywhere. My internet is not the greatest, but it is enough to work with the system.

Took some time to figure out, but the videos are helpful and it is great that you do not have to drill holes . I find it easier to arm/disarm with my phone, but there are other options too.

OSI Smart Wi-Fi Alarm System

Unboxed my alarm system this morning and followed the quickstart video on youtube: https://youtu.be/KqcZOLDh6mc. The video was very helpful and easy to follow. This is a great system for condos, cottages and homes. The best part is no monthly fee! I highly recommend it.